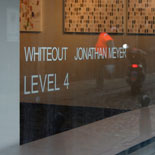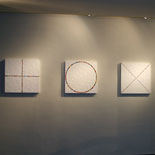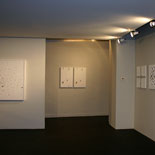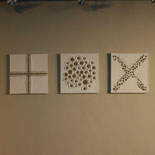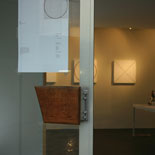 Press release:
Meyer's ongoing preoccupation with the detritus of existence has inevitably led him to packaging. In this latest group of works he has somehow got under the surface of his subject. Here, he has set about exposing the relations between the conceptual job of branding and the quintessentially physical job of sealing that organise a package - the many resonances with the practice of the artist, and the strange life of the art commodity, need not be spelt out.
Meyer describes packaging as the complex architecture of containment and projection that both separates all goods from, and negotiates their way through, the world. In the group of works on show in WHITEOUT his continued use of two collage techniques that have established a dialogue within and between his works, (the one a traditional flat, dry technique, the second a more 3 dimensional technique whereby elements are cast into a well of glue), have been used to separate the role of projection in packaging and that of isolation, respectively.
In a set of cast collages, sealing components of vessels, the mundane but highly evolved language of tamper evident bands and vacuum sealed pressure indicators, cluster in configurations that talk collectively of the urgency of isolating the uncontaminated inside from the outside, the yet to be consumed from the consumed. While in a parallel set of dry collages the semantic surface of packaging is peeled and flattened, presenting the physical site of branding as occurring only on the very outside of the sealing envelope. In the tradition of Barthes, the exquisite superficiality of surface is laid bare.
In both, the superapplication of white sharpens our focus on the relations at stake: the strategic erasure that whiteout always represents, be it at the level of 'correction fluid', the signature whiteness of European modernism, or the whitewashing of infotainment, whiting out has the paradoxical/ironic corollary effect of revealing more. Meyer knows this well. But talking to him one quickly discovers he sheds the analytic in favour of the poetic, referring instead to the whiteout of Midwestern winters of his adolescence, where a thick blanket of snow would erase the normal possibility of navigation and instead, in the raking winter light, reveal the previously hidden structure of the landscape.